A music fan has demonstrated his devotion to tragic pop star Michael Jackson with a tattoo of him on his arm.
Like millions of fans across the world, Carlo Benetello (22), of Buttery Close, off Doddington Road, Lincoln, is shocked and saddened at Jacko's untimely death last Thursday aged 50.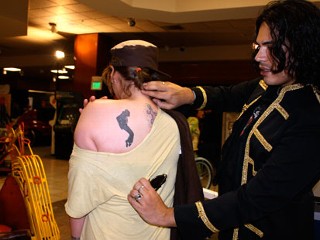 So, Mr Benetello took the brave step of having his first ever tattoo done in the music legend's memory.
He stepped into Eternal Tattoos, in Wragby Road, with a picture of Michael and after an hour under the needle he emerged with his own permanent six-inch tribute.
"The tattoo is black and white and it shows Michael Jackson in his Smooth Criminal period," said Mr Benetello, a joiner.
"As it is my first tattoo I was nervous about having it done but I'm really pleased with it.
"I remember I was so upset when I heard he had died.
"I was so upset when I heard he had died. I'd been to a friend of mine's and on the way back I heard the news on the radio.
"His death is still very upsetting but if anything positive has come out of it, it's renewed my passion for his music and you just realise how good he was when he was at his peak."
Mr Benetello revealed that he has been a fan since the age of six and had tickets to see the King of Pop at London's O2 arena in August.
For the full story see Wednesday's Lincolnshire Echo.
Although he died remains the idol during the period and will not be replaced by anyone at any time and he remains the legend .. the POP music fans who make a lot of michael tattoo on her body to give final homage to the mega music stars as the cover POP .. "You will remain in our hearts the King POP WORLD"
By : Lupus